All our breeding dogs are OFA cleared for hips, elbows, heart, and eyes. Puppies are Canadian Kennel club registered, vet. checked, and come with a  2 yr  genetic health guarantee, their first shots, and 6 weeks pet insurance.
                                                                  COMING SUMMER 2023
   A planned breeding of Keno to Frankie.  This will be a very nice blend of beauty, and brains.  Keno, who is such a beauty,  is very accomplished in the performance arena.  She is currently working on her Scent Detection titles.  Frankie comes from a nice solid line of beautiful dogs with excellent working temperaments.  Frankie is currently working on  his  senior hunt title.                                                                  
KENO  https://www.k9data.com/pedigree.asp?ID=1152388
CH & OTCH CAROLOT'S CARAVAN TO VEGAS TD,WCI,RM,RS, SDO
FRANKIE    https://www.k9data.com/pedigree.asp?ID=673794
GCH Jazzin's My Eye Adored You JH RN VC
KAPER HAS BEEN BRED TO PEYTON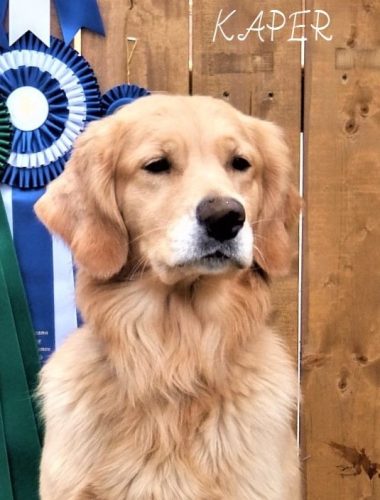 CH/OTCH  CAROLOT'S PRETZEL ESCAPADE TD,WC,RM,DD,NS,,SD-CH
                                                                                                                    PEYTON
                                                                                MBISS GCHS HI-TIDE'S TOAST of the TOWN JH SDHF
   Peyton is a beautiful, and athletic boy residing in California.  He carries a moderate straight wash n wear coat, lovely head with nice pigment, and good boning.  He moves effortlessly in the show ring, and the judges often comment on his lovely front assembly.  See Peyton in the show ring
HERE
:
  This was him gaiting  at the top 20 gala in 2022.  Not only is he pleasing to the eye, but has a true golden temperament.  He gets along with all strangers, kids,  and other animals, including intact males.   This boy loves to retrieve,  and has a wonderful work ethic.  He is now working on his senior hunt title. There is great longevity in his family tree, and this will be a line breeding on the remarkable dog, Yogi.  See more of Peyton on his own page
HERE
We are expecting beautiful puppies, fit for performance, or show homes.  Pets may be available as well.  Puppies ready to go to new homes late fall 2023.